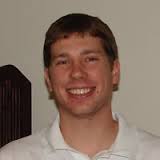 Nathan Cook is a 2007 graduate of the Career Training Academy in Pittsburgh, PA. He is a licensed massage therapist in the state of Pennsylvania, and is a certified member of Associated Bodywork and Massage Professionals. During his years in the massage field, Nathan has worked at a variety of locations, including Massage Envy, Salon Vivace, Russ Medical and Sport Massage Clinic, Harmony Day Spa, WellCare Medical Associates, and Elements Massage.
Nathan specializes in sport, orthopedic, and deep tissue massage, but is also fluent in relaxation massage, hot stone massage, and other spa modalities. He is constantly trying to increase his knowledge in the fields of human anatomy and physical medicine. To this end, Nathan is currently studying to become a physical therapist assistant at Butler County Community College in Butler, PA.
Before entering the world of massage therapy, Nathan studied classical percussion at the Cleveland Institute of Music in Cleveland, OH. Some of his very first massage clients were fellow music students who wanted to prevent the acquisition of repetitive-strain injuries, and/or wanted to combat the stress associated with being an aspiring artist.
In the fall of 2008, Nathan moved back to the Pittsburgh area and continued his free-lance massage career there, this time working on fellow music students at Carnegie Mellon University. Then, in May of 2009, he was hired to work part-time at Russ Medical and Sport Massage Clinic in Beaver, PA. He worked at this clinic until leaving the country in August of 2012. During his time at this clinic, Nathan grew significantly as a therapist, and was ultimately promoted to full-time, senior therapist.
While he enjoyed working primarily at an orthopedic massage clinic, Nathan also kept variety in his career by working as a massage therapist at two spas: Harmony Day Spa in the North Hills of Pittsburgh, and later Salon Vivace in Treesdale. He also had the privilege of working as a massage instructor at his alma mater (Career Training Academy) in New Kensington for three months.
In August of 2012, Nathan moved to South Korea to teach English and to be closer to his girlfriend (who is now his wife). A year later, he was ready to come back to the U.S. with his new wife, and pick up where he left off in his massage career.
Nathan can currently be found working at Elements Massage in Wexford, PA, WellCare Medical Associates in Hampton Township, PA, or traveling around the Pittsburgh area.